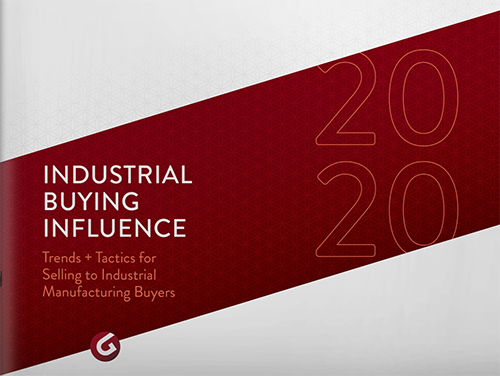 Download the Industrial Buying Influence 2020 Report
Industrial Buying Influence 2020
Trends + Tactics for Selling to Industrial Manufacturing Buyers
Gardner Intelligence's Industrial Buying Influence (IBI) series is a comprehensive analysis of how media and marketing impact the industrial buying cycle in discrete parts manufacturing. Industrial Buying Influence 2020 is the fifth installment of the series and takes a direct look at the industrial buying team. Specifically, the pace and the process by which buying teams evaluate, research and decide on purchases; and, how media and marketing influence and inform each stage of that purchase process.

Topics Include:
- Industrial buyer and buying team personas
- Strategies for building brand, driving demand, generating leads
- Insights into how buying teams use media
- Tips on matching message to titles, facility sizes and buying stage

Get Additional Data and Insights
Gardner Intelligence has been developing and delivering market intelligence to industrial manufacturing for nearly 50 years. More than just forecasting, Gardner Intelligence produces quantitative and qualitative insight into sales, marketing, operations and business management. Some of our more widely-used reports include: Gardner Business Index, Annual Capital Spending Survey, Top Shops Report, Media Usage in Manufacturing Survey. Learn more at gardnerintelligence.com.

Media and Marketing for Your Brand
Gardner Business Media delivers a large, qualified audience; deep data and insights and editorial experience to connect buyers and sellers of manufacturing technology and services. Founded in 1928 with the introduction of flagship manufacturing media brand, Modern Machine Shop magazine, Gardner Business Media, has grown to include global media brands, events, market intelligence and association and industry partnerships. Find out how Gardner Business Media can help you connect at gardnerweb.com.
Generate Leads, Drive Traffic, Build Brand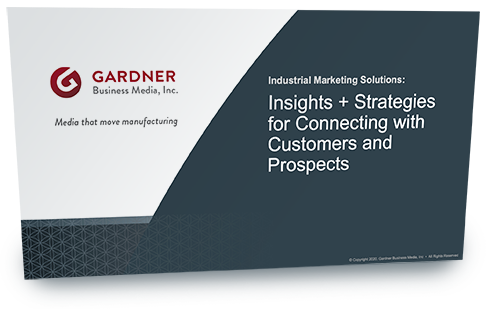 This brief presentation offers a high-level look at solutions for building brand, driving demand and generating leads. Please take a look and don't hesitate to contact us to learn more about how we can help you reach your sales and marketing goals.
Topics Include: Marketing Influencers Impacting the Buying Team, Buyer and Buying Team Personas, Brand Building, Demand Generation, Lead Development
Copyright Gardner Business Media © 2020. All rights reserved.